Hy-Tek Real Time Results
Select an event from the index on the left.
If a result is not yet completed, click another
event or use the Back button to return to the index page.
If you have previously visited the result page, you may
need to refresh/reload the page to get the latest results.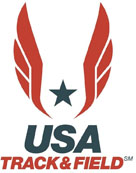 2017 USATF GULF ASSOCIATION
CROSS COUNTRY CHAMPIONSHIPS
Saturday, November 18, 2017
White Oak Conference Center
Houston, Texas
8:30 am
Junior Olympics 15-18 5k
Junior Olympics 13-14 4k
Junior Olympics 11-12 3k
Junior Olympics 9-10 3k
Junior Olympics 8 & under 2k
JUNIOR OLYMPICS ADVANCEMENT
The top 15 individuals and top 2 teams in each age group will advance
to the USATF Junior Olympics National Championships,
to be held on Saturday, December 9th
at the Apalachee Regional Park in Tallahassee, FL
(Note: the 15-16 & 17-18 year old age groups will be combined
for team scoring, with 4 teams advancing in the 15-18 age group;
the 15-16 & 17-18 age groups will each advance 15 individuals)